Tobias Krieger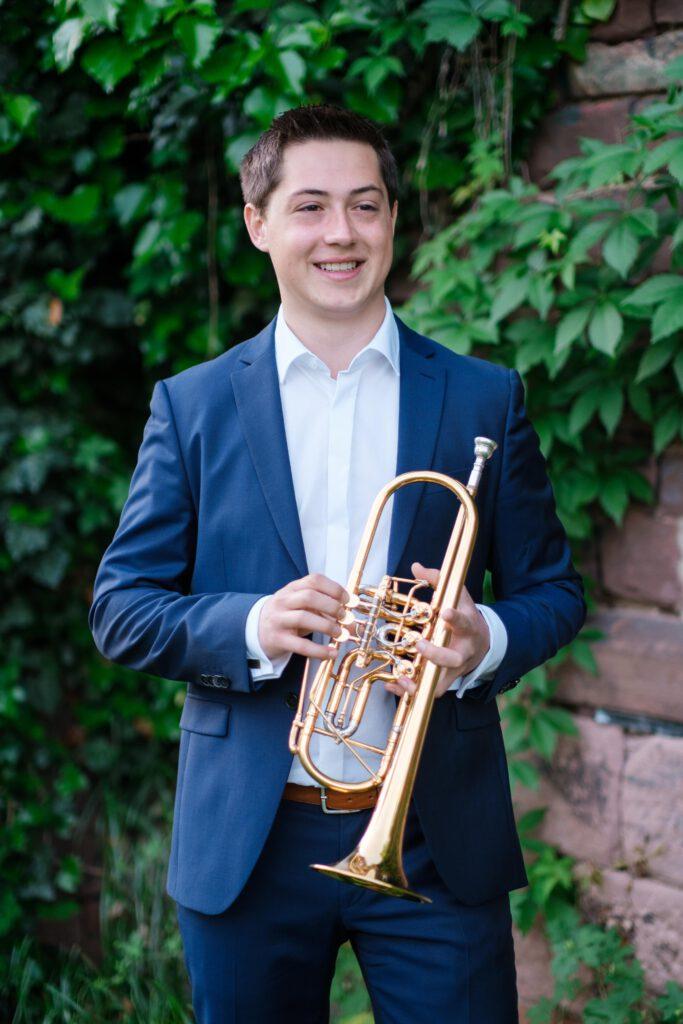 Tobias Krieger became a junior student at the age of 14 at the Musikhochschule in Munich with Prof. Hannes Läubin and Prof. Thomas Kiechle. Since autumn 2018, he has been studying in the trumpet class of the HfM Karlsruhe with Prof. Reinhold Friedrich.
He won 1st prize at the international trumpet competition in Bad Säckingen in 2021. He won first prize twice at the national competition of "Jugend musiziert", in each case with the highest possible score (2015 in Hamburg, 2018 in Lübeck) in the category trumpet solo.
Since 2020, he has been a permanent member of the Gustav Mahler Youth Orchestra.
He has performed as a soloist at the Weingartner Musiktage 2016 and with various orchestras such as the Bergische Sinfoniker and the Württembergisches Kammerorchester Heilbronn.
In the 2022/23 season, he will be a member of the international Ensemble Modern Akademie.
Sandro Hirsch
Sandro Hirsch began his junior studies with Prof. Peter Leiner at the age of 14 and continued his studies with Prof. Klaus Schuhwerk and Prof. Reinhold Friedrich.
He is a scholarship holder of the Studienstiftung des Deutschen Volkes and the Deutsche Stiftung Musikleben, received four national prizes with the highest score at "Jugend musiziert" and other prizes at various national and international competitions, and has performed as a soloist with the Mannheim Chamber Philharmonic Orchestra and the Rhineland-Palatinate State Police Orchestra, among others. Together with the pianist Alexander Altmeyer, he was a guest at the Schleswig-Holstein Music Festival and the Mecklenburg-Vorpommern Festival. In 2017, they released their first album together.
In January 2019, Sandro Hirsch founded a brass band for (street) children in Kigali, the capital of Rwanda, and is a brass guest lecturer at the Rhineland-Palatinate State Youth Orchestra.